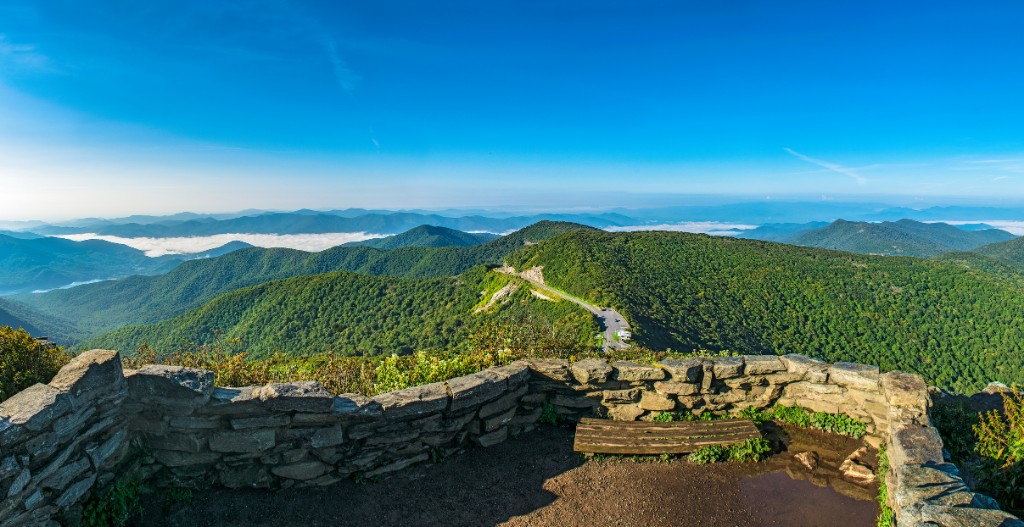 The town of Burnsville was established in 1834 and named in honor of Captain Otway Burns, who served in the Navy during the War of 1812. On top of being in the Navy, Captain Burns had served in the North Carolina General Assembly and was instrumental in approving the measure that created Yancey County (also in 1834) from parts of Burke and Buncombe counties. Yancey County, meanwhile, was named after Bartlett Yancey, a North Carolina Congressman who, on top of other acts, established a fund that financed the creation of the state's public school system.
The center of civic life in Burnsville has been and continues to be Town Square, a small park at the center of which is a statue of Captain Burns with an inscription that reads, "He Guarded Well Our Seas, Let Our Mountains Honor Him." From the square, one can see historic buildings like the NuWray Hotel, which was erected a year before Burnsville was founded and still welcomes guests from around the world; the John Wesley McElroy House, which was built shortly thereafter and now serves as a museum operated by the Yancey History Association; and the Chase-Coletta House, which was built in the 1910s. On the southwest corner of the square sits the Burnsville Town Hall, which was built in 1908 and initially served as the Yancey County Courthouse until a new courthouse was erected a few blocks away in the 1960s.
Beyond the history around the town square, one will find a host of quaint shops and restaurants, as well as a small town feel. With a population of just under 2,000, Burnsville continues to be a relatively quiet place, though the town does draw its share of visitors. Many people come from nearby because Burnsville is the only place within Yancey County because it's the one place where you can legally purchase alcohol. Others come from further afield because Burnsville serves as the gateway to parts of the Pisgah National Forest, the Black Mountains, and Mt. Mitchell, the highest peak of the Appalachian Mountains (yes, that includes Mt. Washington). Beyond being just a few miles from Mt. Mitchell State Park, the portion of the forest close by Burnsville is home to multiple campgrounds, hundreds of trails, and dozens of small mountain communities that feel like they're a thousand miles from the closest city.
Despite feeling a world away, Burnsville is far closer to Asheville than you might think. In fact, the Town Square sits just north of U.S. 19E and is less than 20 miles away from Mars Hill and 35 miles northeast of Asheville.

Sorry we are experiencing system issues. Please try again.