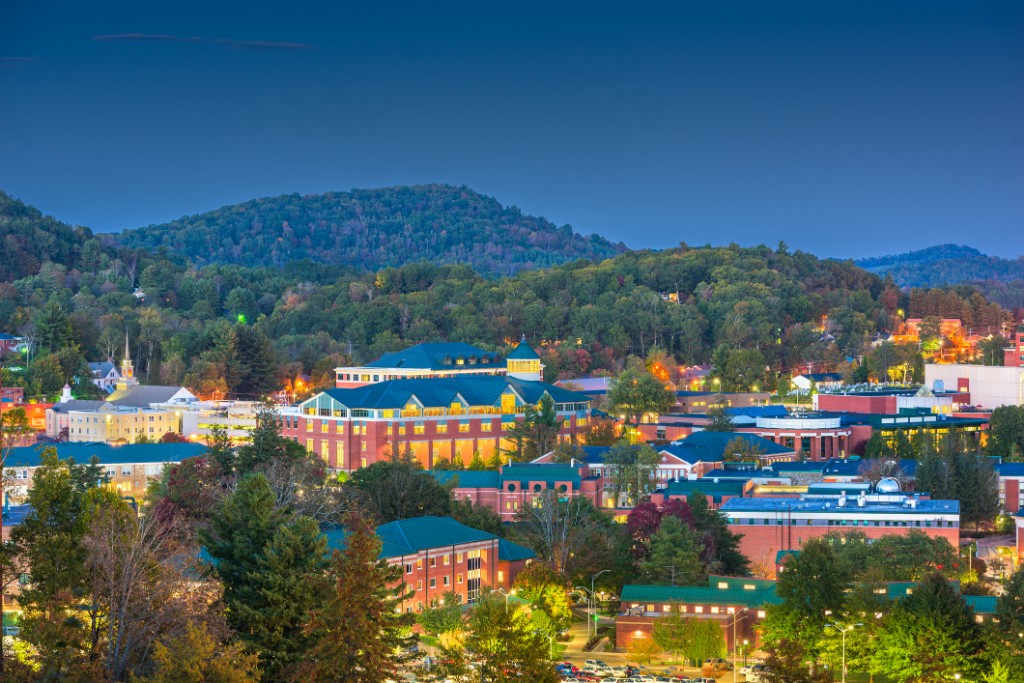 Boone is the cultural and commercial heart of North Carolina's High Country. With a population of just under 20,000, it is not only the largest town in Watauga County, but also the largest town in Western North Carolina with the sole exception of Asheville. In addition to tourists and residents, Boone is home to Appalachian State University, which was founded in 1899 and enrolls more than 20,000 students each year.
No surprise, Boone's namesake is Daniel Boone, who is believed to have camped at a site within the town's limits. The town was incorporated long after Boone's death, in 1872, and later became the seat of Watauga County—which had been created from parts of Ashe, Caldwell, Wilkes, and Yancey counties in 1849. Boone is also the site of the Junaluska community, which sits not far from downtown and is a free Black community that dates back to before the Civil War.
Downtown Boone has become a magnet for local artists and artisans, with the area of King Street that sits adjacent to the university being perhaps the most vibrant of Boone's strips. Here you'll find restaurants, cafes, bars, and galleries, as well as the Turchin Center for the Visual Arts. Between Depot Street and Grand Boulevard sits the Mast General Store, which has been in continuous operation since 1883. Next door is the Jones House Cultural Center, which was the private home of Dr. John Walter Jones when it was built in 1908. It now serves as a community center, art gallery, and museum. During the summer, the property hosts concerts featuring local jazz and bluegrass musicians. A few blocks away from the downtown strip one will find the Strawberry Hill Arboretum, Daniel Boone Native Gardens, and Daniel Boone Amphitheater. In the winter, Boone attracts skiers and snowboarders, as the town is just minutes away from Appalachian Ski Mountain.
Despite being a big town for the area, it doesn't take long to return to the Appalachian wilderness. The Blue Ridge Parkway is easily accessible, which leads to several hiking trails, scenic outlooks, and Flat Top Manor. Built in the 1890s and first decade of the 1900s, the 23-room Colonial Revival mansion was the retreat of Moses and Bertha Cone but is now open to the public. Adjacent to the estate is Moses H. Cone Memorial Park, which is home to 25 miles of carriage roads, two man-made lakes, and an apple orchard. Not far from Flat Top Manner is Grandfather Mountain, which rises nearly 6,000 feet above sea level. As a part of the United Nations' Southern Appalachian Biosphere Reserve, visitors to Grandfather Mountain can explore its unique ecology, view wildlife, or walk across the famous Mile High Swing Bridge, a 228-foot suspension footbridge spanning an 80-foot chasm that offers panoramic views of Linville Peak. Several charming mountain communities also exist just outside of Boone, including Valle Crucis, Foscoe, and Blowing Rock.